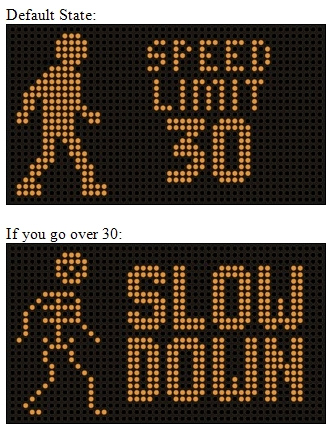 New York City Department of Transportation (DOT) Commissioner Janette Sadik-Khan today announced the installation of skeleton speed boards on two New York City streets in Brooklyn and Queens, the first in a series of citywide installations to call dramatic attention to the potentially fatal consequences of exceeding the city's 30 m.p.h. speed limit.
Mayor Michael R. Bloomberg announced the skeleton speed boards last month when he joined United Nations Secretary-General Ban Ki-Moon and Commissioner Sadik-Khan to highlight new traffic-safety initiatives designed to further drive down already record-low traffic fatalities and injuries in New York City in conjunction with the U.N.'s launch of its Decade of Action for Road Safety campaign.
The skeleton speed boards display an LED image of a skeleton next to the words "Slow Down" if a passing motorist exceeds the 30 m.p.h. These new speed boards supplement traditional speed boards that display speeds of passing motorists.
Read more at the New York Times